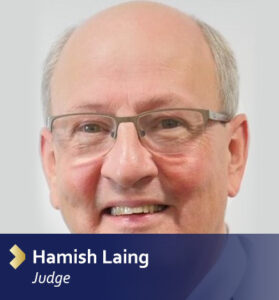 Director, Value-Based Health and Care Academy, Wales
Professor of Enhanced innovation, Engagement and Outcomes
School of Management, Swansea University, Wales UK
After a career as a reconstructive Plastic Surgeon and Sarcoma specialist in England and Wales and holding many NHS leadership positions, Hamish was Executive Medical Director and Chief Information Officer at one of the large integrated University Health Boards in NHS Wales where he initiated a Value-Based Healthcare (VBHC) programme.
Appointed to a personal chair in Swansea University in 2018 and as the founding Director of the Value-Based Health and Care Academy in 2021, Hamish researches, teaches and consults about the application of Value-Based Healthcare for Health, Social Care and the life-science sectors. The Academy provided extensive Executive Education programmes, a Master's degree and a Doctorate in Business Administration in VBHC.
Hamish represents Wales at the European Federation of Pharmaceutical Industries and Associations (EFPIA) Value-Based Health Care Think-Tank and works closely with several global Pharma and Med Tech companies on their VBHC transformation. Hamish is a member of the Value in Health Strategy Group in Welsh Government.
Twitter: @hamish_laing
LinkedIn: www.linkein.com/hamish-laing-02230938
SU Twitter: @SwanseaUni
SU LinkedIn: www.linkedin.com/company/school-of-management-swansea-university
SU Website: www.swansea.ac.uk/som/vbhc-academy