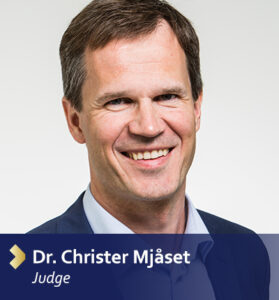 Norwegian Neurosurgeon and Vice President at Helseplattformen (the Health Platform)
Christer Mjåset, M.D., is a Norwegian neurosurgeon and vice president of Helseplattformen (The Health Platform) working to implement an electronic health record across every level of care in Central Norway.
Mjåset is a specialist in neurosurgery at Oslo University Hospital and has been enrolled in the Ph.D. program at Oslo University Hospital, where he conducted research on the Norwegian Spine Registry and population outcomes related to neck surgery. His previous research agenda spans medical ethics, narrative medicine, neurological diseases and e-health. One prominent topic from his research history is Value-Based Health Care in four different health care systems in Massachusetts (USA), the Netherlands, Norway, and England (UK), specifically focusing on the structural differences and variation in emphasis on programs contributing value in care delivery. The degree of development of six strategic elements of a value-based model across health care systems provides insights on what policymakers and providers can do to speed up its implementation.
Mjåset is also the author of five published works of fiction and several short stories. He won the Oslo City Cultural Scholarship for writers in 2006.
He is a former 2019-2020 Harkness Fellow in Health Care Policy and Practice at Harvard T.H. Chan School of Public Health. Additionally, he is former Vice President of the Norwegian Medical Association (2017-2019), leader of the Norwegian Junior Doctors (2015-2019) as well as leader of the steering committee of the Norwegian Choosing Wisely Campaign (2017-2019).